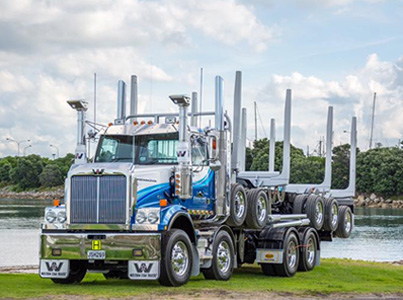 About us
Kraft Engineering has cemented its place in New Zealand's manufacturing industry, designing, building and maintaining engineering equipment for the country's logging and transportation sectors.
Our approach to engineering is unique. Working with each of our customers, we set out to design and build high performance trailers that exceed your expectations. Using high tensile steel, LED lighting, EBS and an in-house wench system, our units are proven to meet your requirements.
Experts in our craft
Founded in 1978, Kraft Engineering is the brain child of Graeme Kelly. As a boy, Graeme would watch his father unload the cream trucks for the New Zealand Dairy Company. Little did he know his interest as a three-year-old would stem into a career as a successful engineer and businessman.
Graeme's first design was a tractor, but he quickly saw the potential of designing off-highway trailers. His hands-on approach and innovative ideas, many of which are a first in the logging industry, have seen Kraft Engineering evolve over more than 30 years to become a leader in the manufacturing industry.
Timeline
Graeme to send over historical timeline to depict the range of trailers and units Kraft has krafted!